This article is under construction. It is in the process of expansion, and is by no means finished.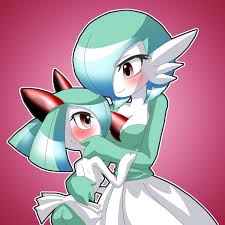 Heart and Soul are a Gardevoir and Kirlia pairing that both appeared in the PokeRP Saga. Heart appeared in parts four and five and Soul made a cameo at the end.
Both will appear in the Mirror World RP.
Heart is a Gardevoir that is Queen of the Mirror World. As such, she will be in charge in her realm during the RP. She is wracked with guilt after killing Desire by accident and as such, she doesn't do her royal duties anymore. She generally is very excitable and is known for eating a huge amount of food in one sitting, second only to Desire.
Speaking of Desire, it was hinted that the two had a romantic relationship as they were both found kissing in a larder... while eating a weeks supply of food between them.
Heart has been blessed with eternal life at the end of the PokeRP saga as well as her Mirror World. In the Mirror World, she is Queen and she will have to put up with Phoeness durring the Mirror World RP.
Since the saga, Heart has appeared only twice more since then and both were minor. She was the judge in the unfinished RP Paige's Trial and she appeared at the beginning of Teddy's Journal with Paige and K, which hints at a possible secret and implies that the Pokemon are best friends.
She has made an appearance in Chelsea's Madness as a key character. She is more of a comedy character this time as, in order to keep Paige safe, stuck Paige inside her behind. She is still a voice of reason, however, as she forces Ilia to calm down without resorting to any threatening language, unlike Soul, who was threatening to use Psychic.
Little is known about Soul as she only made a cameo but we know that she is the Princess of the Mirror World and is Heart's daughter. Apparently, she sometimes is in charge. When the Mirror World RP commences, Soul will be the first of the two to appear, as she is the portal master.
Soul has made an appearance in Chelsea's Madness as she was accompanying Heart. Soul started to forge a relationship with K and is friendly with Chiko and Aqua.
Heart is an Aries, born on April 1st
Soul is a Virgo, born on September 11th
Heart was created by accident. The original plan was Heart to be a disguise for Desire.
Heart's favorite snack is whiskey flavored chocolate
Soul's favorite snack is deep fried bacon.
Both are allergic to Aromatherapy.
Heart seems to always appear in disguise before revealing herself
Soul was meant to be a standalone character